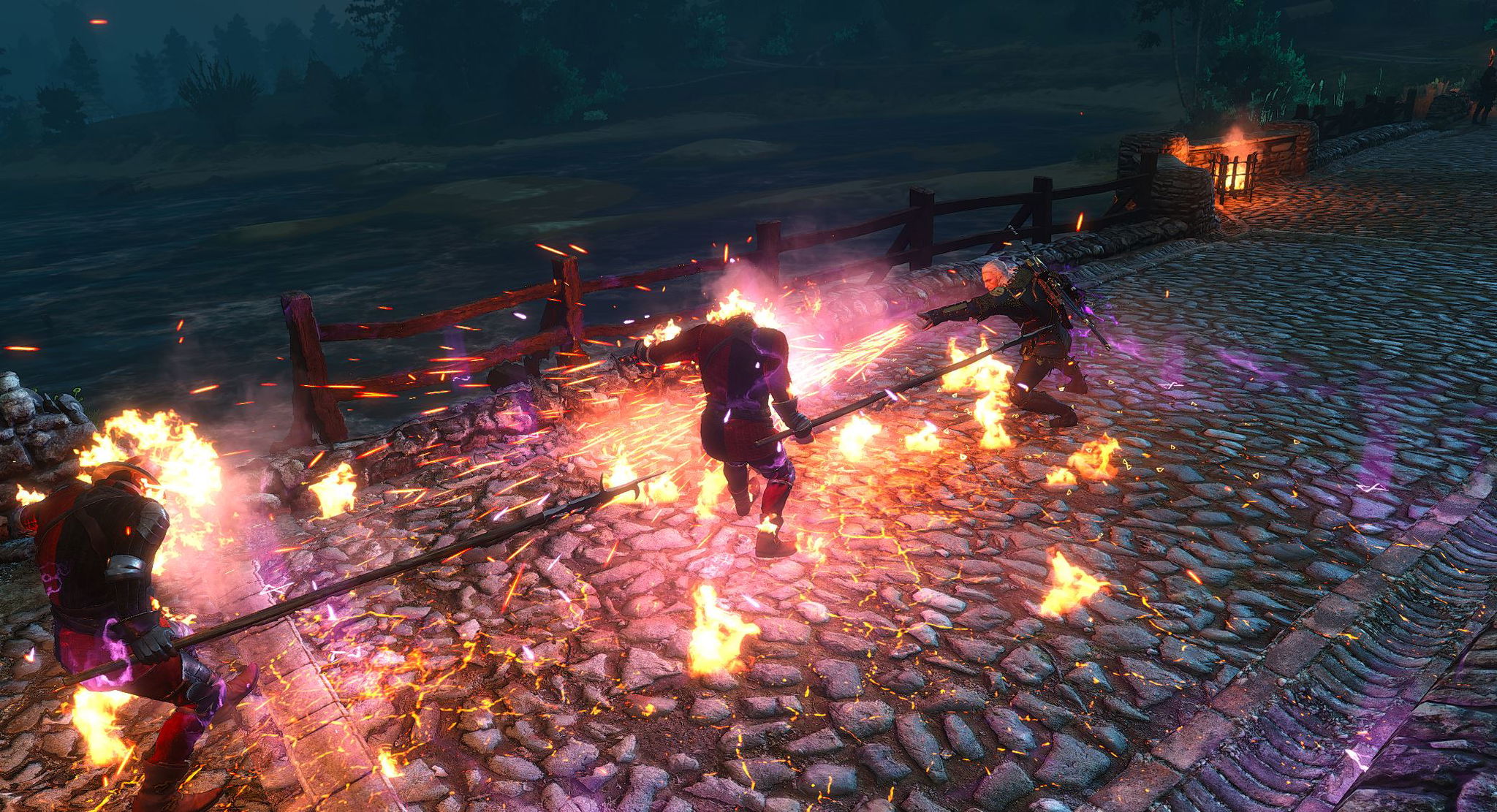 Best Igni build - Witcher 3: Wild Hunt
This post will cover the best Igni build in Witcher 3. This spells shoots fires from Geralt's hand and sets enemies on fire. This is extremely fun as once enemies are on fire they cannot do anything to you.
Fire Igni Build
The build concentrates on using the Igni sign to control the battlefield. Of course, by itself, the spell is just okay, but we will add Yrden and Quen to further enhance the offensive and defensive capabilities of Geralt.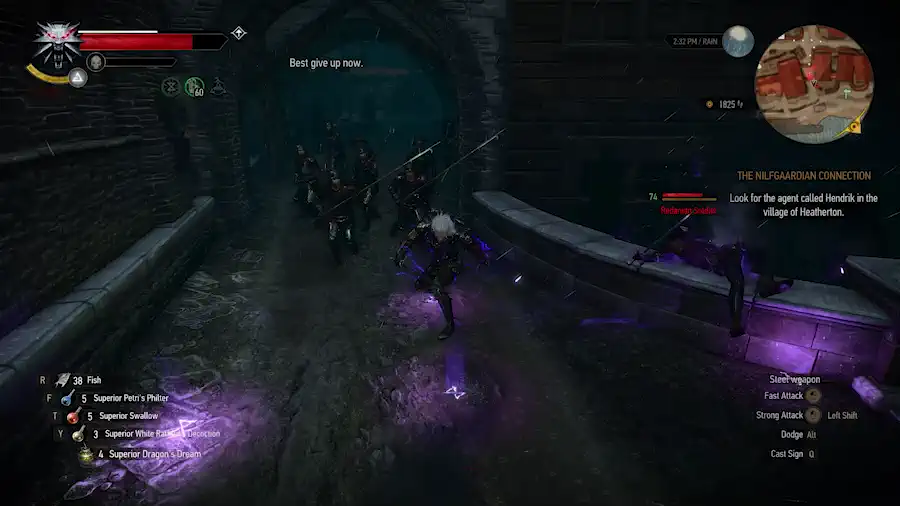 What makes this build special as it can easily take enemies that are 10+ levels higher than Geralt. For this reason, we aim to always maximize Sign Intensity.
The Build is tested on New Game+ and Deathmarch difficulty. It doesn't get any harder
Skills allocation
Here is a short overview of how to allocate your skill points. For detailed progression check the next section.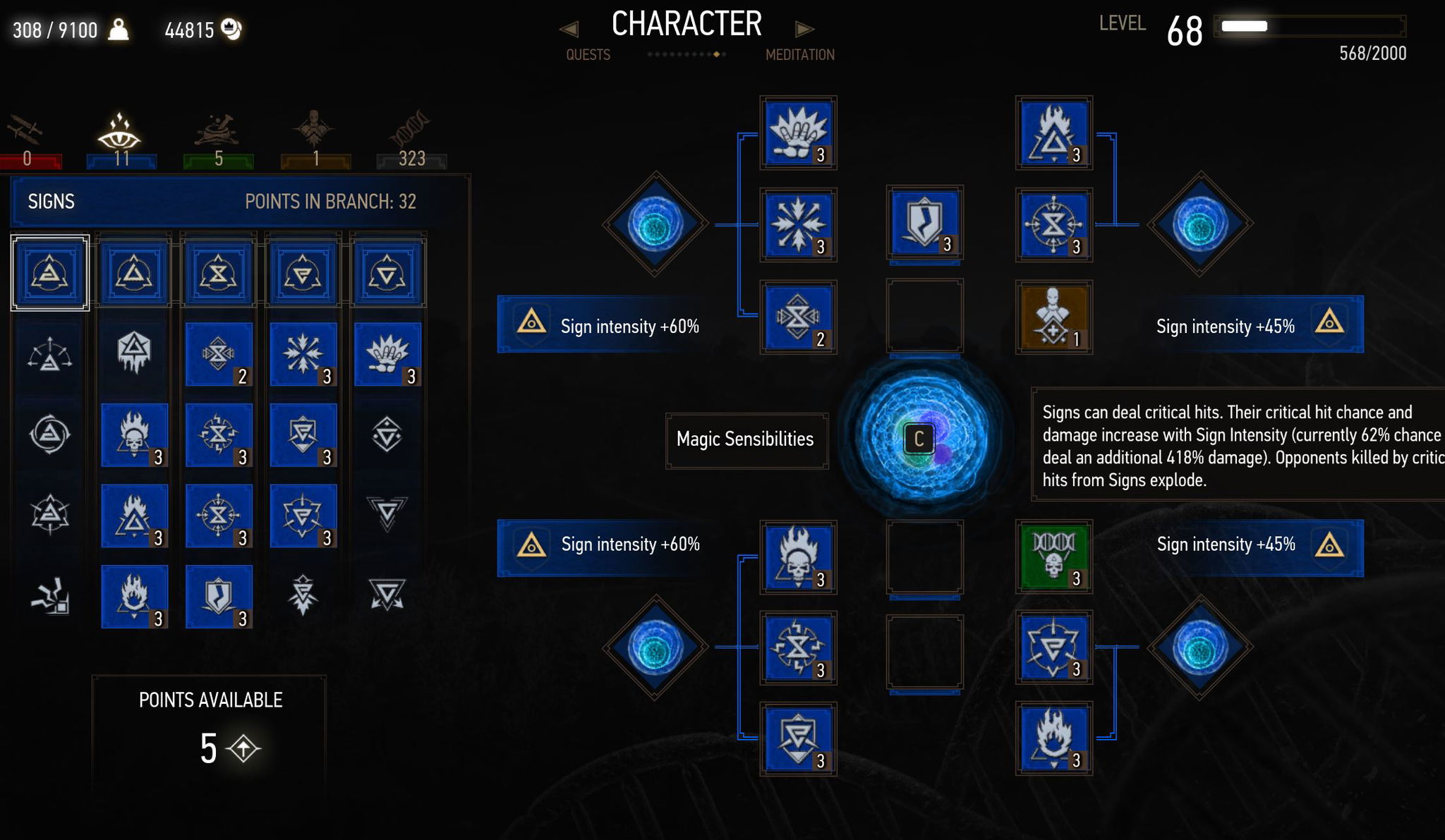 Here is the list of all Skills that are needed for the build:
Name
Effect
Sustained Glyphs
Increases Sign duration by 10 seconds. Number of alternative mode charges: 9. Number of standard mode traps: 2.
Exploding Shield
Quen shield pushes opponents back and deals damage when it breaks, with a chance for knock-down.
Delusion
Target does not move towards Geralt while he is casting Axii. Increases the effectiveness of Axii in dialogues. Reduces Axii casting time. Failed Axii attempts stagger the target
Firestream
Alternate Sign Mode:
Emits a continuous stream of fire that damages enemies. Stamina cost is reduced by 50%
Magic Trap
Alternate Sign Mode:
Damages and slows enemies within a 14-yard radius. Destroys projectiles passing through this area. Damage increased by 50%.
Active Shield
Alternate Sign Mode:
Maintaining an active shield no longer drains Stamina. Stamina drain for blocked attacks unchanged. Damage absorbed by the shield restores player Vitality.
Igni Intensity
Increases Igni Sign intensity by 30%.
Yrden Intensity
Increases Yrden Sign intensity by 30%.
Quen Intensity
Increases Quen Sign intensity by 30%.
Pyromaniac
Increases the chance to apply Burning by 100%.
Supercharged Glyphs
Enemies under the influence of Yrden lose 30 point(s) of Vitality or Essence per second. Damage scales with enemy level and Sign Intensity
Synergy
Increases bonus for mutagen placed in mutagen slot by 50%.
Griffin School Techniques
Each piece of medium armor increases Sign intensity by 5% and Stamina regeneration by 5%.
Magic Sensibilities
Signs can deal critical hits. Their critical hit chance and damage increases with Sign Intensity (currently 62% chance to deal an additional 418% damage). Opponents killed by critical hits from Signs explode.
Detailed Skill Progression
This covers detailed progression for the build as many players will not be high level to have 50+ skill points. So just follow the abilities as you progress for maximum effectiveness.
If you are below level 11, I suggest following early game build guides
| Order | Skill | Description |
| --- | --- | --- |
| 1 | Delusion | This is an extremely good quality of life skill. It will unlock some additional dialogue options. Moreover, they usually provide additional XP. |
| 2 | Exploding Shield | As Sign build, having your Quen shield explode will be very useful early on. The result is knocked down enemies, that can be instantly killed with Sword |
| 3 | Active Shield | I cannot stress enough how important this ability is. It provides a sustained Quen shield that restores HP when hit. This is mandatory on Deathmarch difficulty where you have limited options to restore HP |
| 4 | Magic Trap | I occasionally use this ability together with the normal version. However, this mostly shines if you take Entanglement glyphword on the armor from the Runewritght. Otherwise, it is just for progression. |
| 5 | Firestream | This ability can be fun to use, however, I have only one use case in this build's context - dealing with Shielded enemies. It has a special mechanic - sustained fire will make enemies drop their Shields on the ground due to extreme heat. After this, you can easily take them out. |
| 6 | Griffin School Techniques | The perfect time to get this skill. You should have your first Griffin Armor set at this time to utilize the bonuses from the skill. |
| 7 | Igni Intensity | Increases the effectiveness of your Igni sign. |
| 8 | Yrden Intensity | Increases the effectiveness of your Yrden sign. |
| 9 | Quen Intensity | Increases the effectiveness of your Quen sign. |
| 11 | Sustained Glyphs | Increases the duration of Yrden. Really good ability as you can spend more time on casting Igni. |
| 12 | Supercharged Glyphs | I cannot emphasize enough how powerful this upgrade is. It allows one to take on enemies that are many levels higher. Little by little Yrden will chip away at the enemy's HP. This is extremely useful against Golems and Gargoyles who are resistant to Igni. |
| 13 | Magic Sensibilities | The mutation becomes available during Blood and Wine DLC. It allows the build to become extremely powerful and Igni Sign to deal critical hits. |
| 14 | Any 4 abilities in the Alchemy tree with 3 levels | You will need to spend 12 points to unlock the next perk |
| 15 | Synergy | This is a very powerful ability but it requires 12 point investment into the Alchemy tree. It will greatly boost Sign Intensity resulting in much stronger signs. |
Tactics
Here are the main tips for the best Igni Build in WIthcer 3
Yrden to control the battlefield
Although we mainly use Igni, Yrden is a mandatory sign. It provides these benefits:
Damages enemies (with Supercharged Glyphs upgrade)
Slows them down
Once you get Grandmaster Griffin Set with 6 pieces:
Increases stamina regeneration
Boosts Sign Intensity by 100%
Decreases damage taken
With these bonuses having Yrden all the time is mandatory. It will also give more time to react against enemy attacks as they are heavily slowed down.
Another thing to have in mind is that some enemies will be resistant to fire (Golems or Gargoyles). Yrden can still damage them giving small damage over time.
Quen - all-protecting shield
You should use this Sign before every combat. As enemies become stronger you will be easier to kill due to the minimal amount of Vitality. With Exploding Shield enemies will get knocked back, which you can exploit by instant killing them (if they are on the ground)
Once you get Active Shield you can heal Geralt on demand by allowing enemies to hit you. This is a very powerful alternative ability as on Deathmarch you cannot easily heal with meditation.
Firestream against Shields
Igni's alternative skill Firestream is effective against a single target. Unfortunately, most of the time you will fight multiple enemies so it should be avoided. However, there is a specific case where it is very useful - enemies with shields. Due to extreme heat enemies will drop them allowing Geralt to easily take care of them
General Combat rotation
The idea is to set Yrden field at the start of the combat. This way Geralt gets a 100% Sign Intensity boost. After that, you can start spamming Igni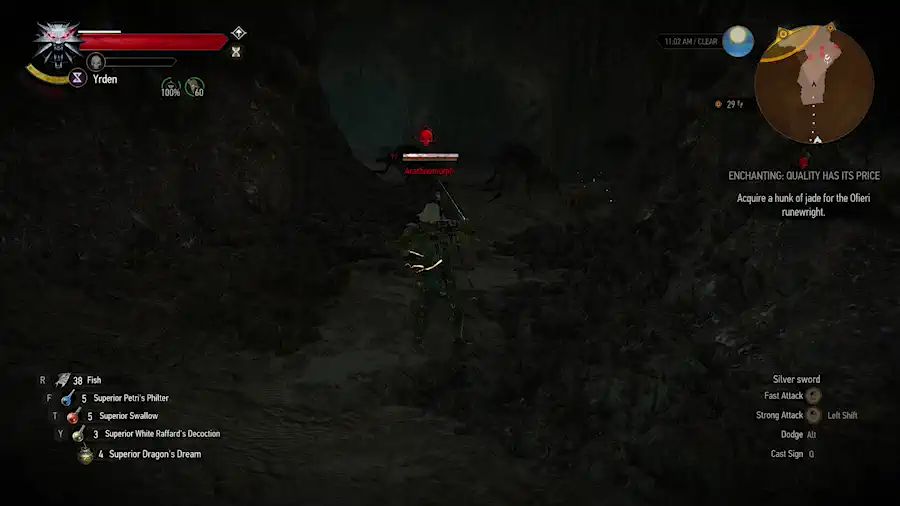 As you can see, enemies way above my level are immobilized and burnt to crisp.
Equipment
Throughout the game I recommend using the Griffin Armor set, it provides high Sign Intensity. Of course, your true goal is Grandmaster tier. It can be obtained in Blood and Wine DLC.
What makes Grandmaster Griffin Armor set special is that once you have 6 pieces equipped (including swords) your Yrden becomes a very powerful spell. Due to this reason, for Ingi build I do not recommend any other gear.
Weapons
Steel Swords
Silver Swords
| Item | Description |
| --- | --- |
| Grandmaster Griffin Silver Sword | Necessary for the Griffin set. Provides increased Sign intensity, three slots, and bonus experience from monsters. |
Weapon upgrades
| Upgrade | Description |
| --- | --- |
| Greater Veles Runestone | Greatly boosts Sign Intensity and stacks them on weapons for maximum effectiveness. |
| Rejuvenation | An interesting alternative to Runestones. I personally did not take it, but deadly blows will restore stamina. |
Armors
Item
Effects
Grandmaster Griffin armor

+24% Sign intensity
+19% Resistance to piercing damage
+17% Resistance to bludgeoning damage
+24% Resistance to slashing damage
+26% Resistance to damage from monsters

Grandmaster Griffin trousers

+12% Sign intensity
+6% Resistance to piercing damage
+9% Resistance to slashing damage
+11% Resistance to damage from monsters
+33% Resistance to elemental damage

Grandmaster Griffin gauntlets

+12% Sign intensity
+5% Resistance to piercing damage
+6% Resistance to slashing damage
+4% Resistance to damage from monsters
+12% Resistance to elemental damage

Grandmaster Griffin boots

+12% Sign intensity
+5% Resistance to piercing damage
+5% Resistance to bludgeoning damage
+6% Resistance to slashing damage
+4% Resistance to damage from monsters
Armor upgrades - there are multiple options and I recommend trying all of them out. I listed them in order of the most favorites for me.
Upgrade
Description
Rotation
Probably the most powerful improvement specifically for Igni all the enemies around Geralt are hit. With Pyromaniac this makes
Eruption
I love this Enhancement. It makes enemies explode if they are killed when under the effect of Igni.
Entanglement
An interesting choice to improve Yrden Magic Trap skill. Each hit with lightning will spawn a Yrden circle. This is good for a few reasons:


No need to spawn Yrden yourself multiple times
Enemies will automatically be inside the Yrden circle, receive damage over time, and get slowed down.

Greater Glyph of Igni
Increases Igni sign intensity
Greater Glyph of Quen
Increases Quen sign intensity
Greater Glyph of Yrden
Increases Yrden sign intensity
Potions and tonics
| Item | Effects |
| --- | --- |
| Superior Petri's Philter | The main potion that I recommend using in almost all encounters. It increases Sign intensity making them more effective. Also, signs always apply their effects. |
| Superior Tawny Owl | Improves stamina regeneration. This way Geralt can reuse Signs much faster. |
| Superior Blizzard | This is an extremely powerful potion. It slows time, allowing for much easier combat overall. Moreover, if you have 3 Adrenaline Points, no action uses stamina. This means that you can cast Signs as long as you have the potion active. |
| Superior White Raffard's Decoction | I recommend having this potion in the quick slot. It instantly restores 100% HP and grants immunity to damage for a short period of time |
Decoctions
Item
Effects
Ancient Leshen Decoction
Each Sign cast increases Stamina regeneration for the remainder of the fight.
+2 Stamina regeneration in combat.
Foglet Decoction
Increases Sign Intensity during cloudy weather.
+25% Sign intensity. I recommend using this one when being in Velen, as that region mostly has this type of weather
Conclusion
Thank you for reading the post on the best Igni build in Witcher 3. I covered all essential parts to be effective - skills progression, recommended gear, tactics, and general tips.
If you have any questions or suggestions leave a comment below