Thoma Build Best Weapon Selection and Choice | Polearms Comparison and Analysis
Thoma is a four-star Pyro polearm character in Version 2.2 in Genshin Impact.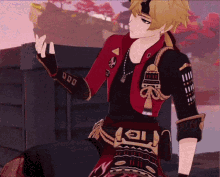 His unique "stacked shield" skill is also very interesting. So what is Thoma's best weapon? Let's analyze and see.
Best Weapon for Thoma
His shield strength is based on his HP.
For choosing his weapon, we should focus on HP%.
| | | | |
| --- | --- | --- | --- |
| Weapon | Stars | Obtain | Details |
| Black Tassel | ★★★ | Wish | Although it gives the HP for the weapon holder, it is still a 3 stars weapon. Thoma couldn't deal big DMG when he use this weapon. |
| Favonius Lance | ★★★★ | Wish | Thoma's Elemental Burst consumes 80 energy points. This weapon could be a little bit helpful if he uses HP artifacts. |
| Kitain Cross Spear | ★★★★ | Craft | Not too bad on Thoma. It could increase Thoma's elemental damage. If you put Raiden Shogun in the party, this weapon can help Thoma do more pyro damage. |
| Staff of Homa | ★★★★★ | Wish (Only Released once in Spring, 2021) | The sub status can increase the HP. But this weapon only appears once. If it comes again in the future, it could be useful for Hutao, Zhongli and Thoma. |
In conclusion, the best weapon for Thoma is the five stars "Staff of Homa". For the new players, they might not get this weapon. So the four-stars Favonius Lance is the best choice for Thoma.