Alhaitham Rerun | Alhaitham Banner Countdown 2024 - Genshin Impact
Lots of travelers are looking forward to more Dendro Characters in Genshin Impact.
Alhaitham is strong, cool, thoughtful, and loyal in the story. So when will Alhaithan be released? Why there's still no information and news of his release details? I collect some information here, let's check them all.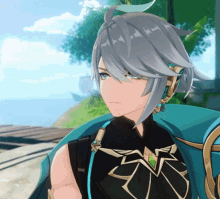 Alhaitham's Rerun Banner Analysis
Alhaitham's first rerun time is in version 3.4.
| | | |
| --- | --- | --- |
| Release Time | Version | Time |
| First Time Release | 3.4 | Jan. 2023 |
| First Time Rerun | 3.7 | Jun. 2023 |
Alhaitham's Rerun in 2024
He has some popularity among travelers. Since all characters' reruns are always around 8-13 months. He could come again to Fontaine after 4.0. And there will be more and more new characters released. He might come again around the spring between April and May 2024.
If you are going to pull Alhaitham, welcome to leave the messages below. Good luck, and see you next time.
What do you think about Alhaitham? Why some players don't like Alhaitham? Here you can find some news.