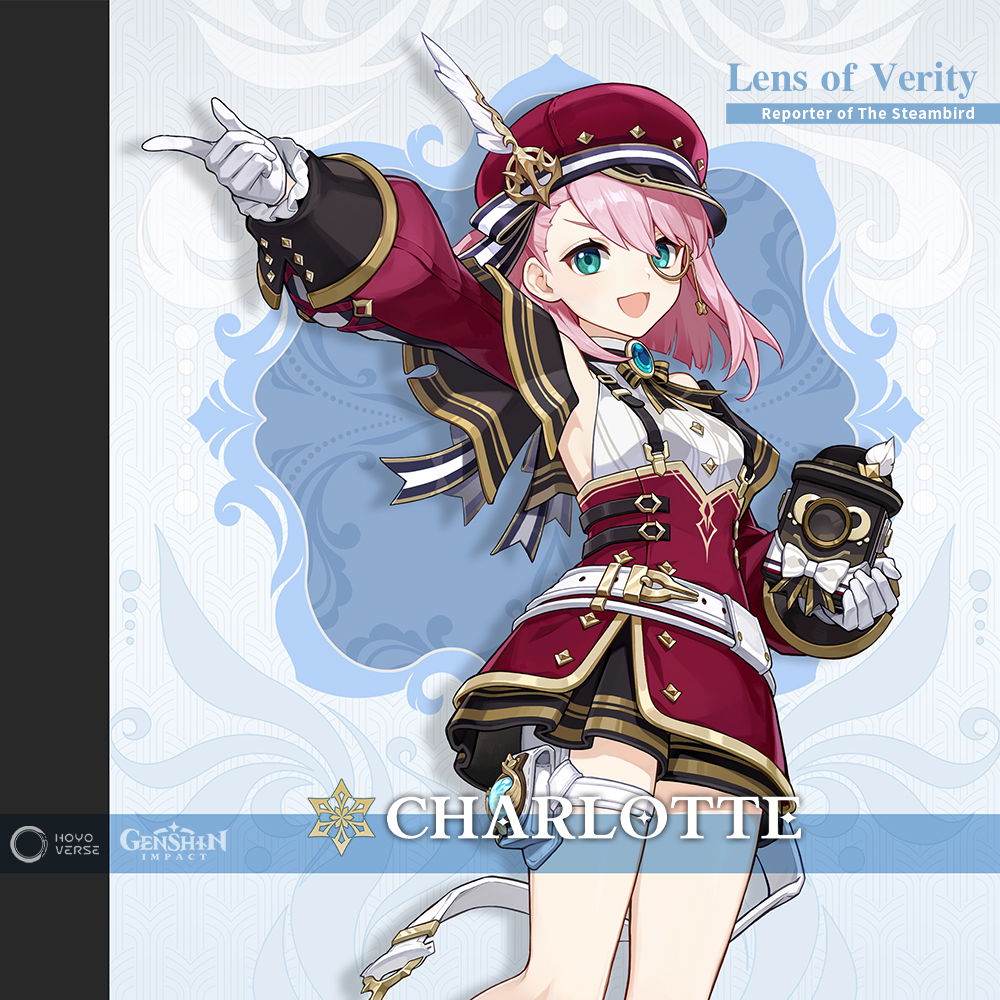 Charlotte Best Build Deep Guide: Weapons Artifacts Teams - Genshin Impact
Charlotte is the Cryo Healer, and she can restore life to the entire team. The most interesting skill of her is taking the photos. Even though she is not strong, her funny skills can also support the team. Some travelers are not sure about which artifacts should be used on her. Let's see some details.
Contents
Character Information
Name: Charlotte

Birthday: May 2nd.

Rarity: ⭐⭐⭐⭐

Element: Cryo ❄️

Weapon: Catalyst

Role Ranking: Support, C6 can be a DPS

First Release: Version 4.2
Skills Introduction
The normal attack has a good feel, and there is a mechanism to enhance self-damage. Since healing scales with attack, it is recommended to use her as a support rather than a main DPS.
Backline Support:
This role primarily focuses on deploying skills, with the ultimate providing healing. When needed, she can assist in applying cryo or freezing. With a full constellation, she can also contribute to backline damage and healing.
Short Hold: Provide Cryo Damage.
Long Hold: Mark and Target enemies and bring higher DMG. Max 5 enemies.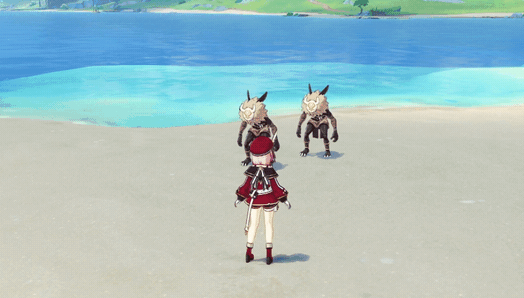 Continuously restores HP to the current field character. The amount is based on Charlotte's ATK.
Constellation Overview
C0 can be used.
C4 and C6 are core constellations. If you have extra primos, try to make her in C4 or C6.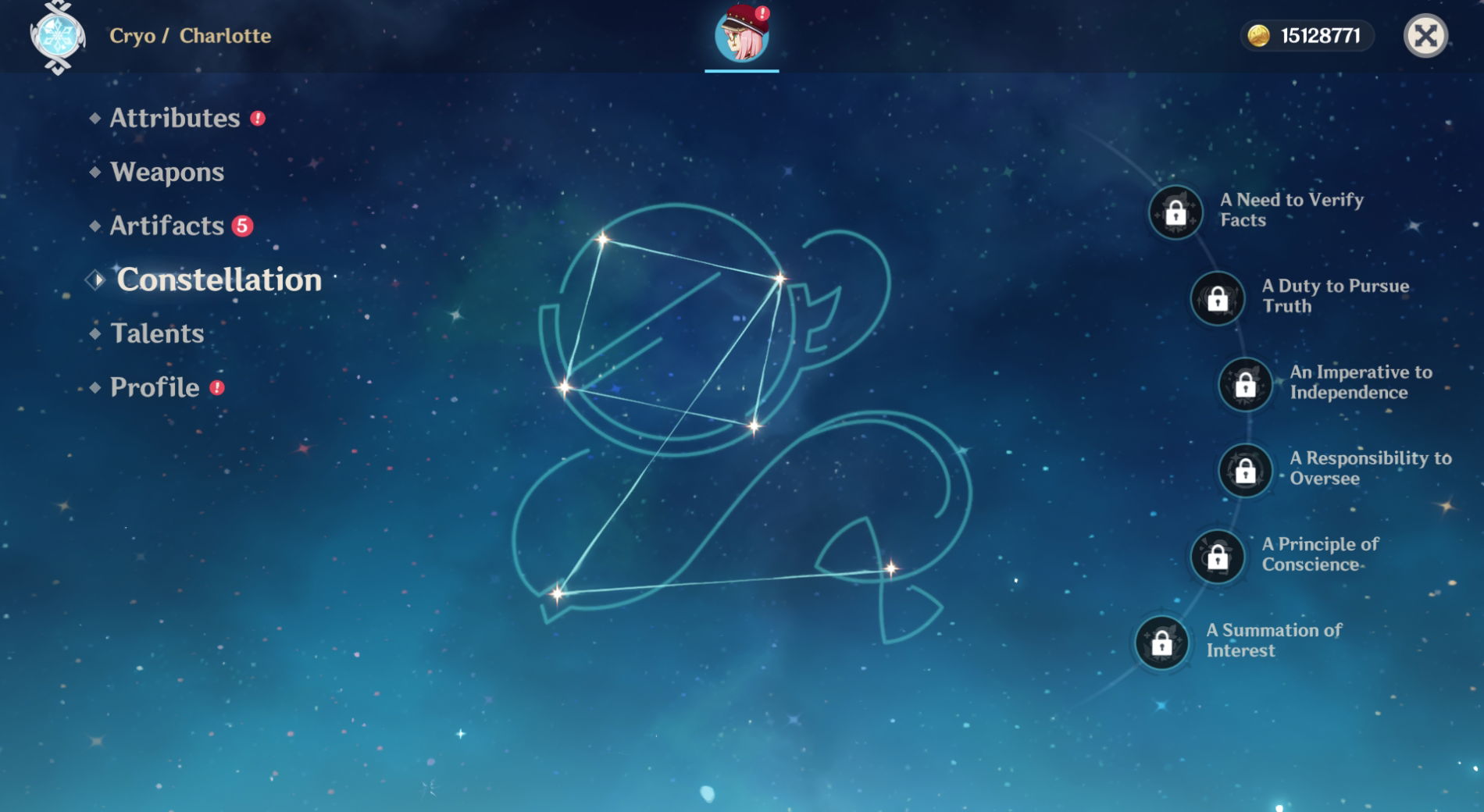 Charlotte Best Artifact
Artifacts Status
The Artifacts should focus on:
Energy Recharge
ATK
Healing
Elemental Mastery
Basic (Obtaining difficulty is low, only for transition):
2 The Exile Set + 2 Adventurer Set+ 1 Free
The Exile Set
Adventurer Set
Best:
4 Maiden Set (5 stars) + 1 Healing Bonus or ATK Bonus
4 Tenacity of the Millelith (5 stars) + 1 Healing or ATK Bonus
2 Maiden + 2 Emblem Of Severed Fate
2 Emblem + 2 Gladiator
Artifact Name
Details

Gambler

2-Piece : Increase Elemental skill DMG by 20%
Obtain: Clear Pool and Mountain Cavern, Liyue

The Exile

2-Piece: Energy Recharge +20%
4-Piece: Using an Elemental Burst regenerates 2 Energy for other party members every 2s for 6s. This effect cannot stack
Obtain: All small bosses in the open world, such as Fatui, Cicin Mage, Abyss Mage, Ruin Guard, Helichurls, etc.

Emblem Of Severed Fate

2-Piece: Energy Recharge + 20%
4-Piece: Increases Elemental Burst DMG by 25% of Energy Recharge. A maximum of 75% bonus DMG can be obtained in this way.
Obtain: Momiji-Dyed Court Domain, Yashiori Island located far West of Inazuma City

Tenacity of the Millelith


2-Piece: HP +20%
4-Piece: When an Elemental Skill hits an opponent, the ATK of all nearby party members is increased by 20% and their Shield Strength is increased by 30% for 3s. This effect can be triggered once every 0.5s.
Obtain: Ridge Watch, Liyue

Maiden Beloved

2-Piece: Increases Healing by 15%

4-Piece: Using an Elemental Skill or Burst, increase 20% Healing for 10s.

Obtain: Valley Of Remembrance, Mondstadt

Gladiator's Finale

2-Piece: ATK + 18%

4-Piece: Sword, Claymore or Polearm's user, increases their Normal Attack DMG by 35%.

Obtain: All bosses.
Charlotte Best Weapon
Weapon
Description
Skyward Atlas


The best Five-star weapon, provides ATK if you want to build Charlotte as a DPS-Support.
Obtain: Wish

Oathsworn Eye

The best Four-star weapon, provides ATK if you want to build Charlotte as a DPS-Support.
Obtain: 2022 Event

Favonius Codex

The best Four-star weapon, provides Energy Recharge if you want to build Charlotte as a Support.
Obtain: Wish

Prototype Malice

A good free Weapon for Charlotte.
Obtain: Crafting
Charlotte Best Team
Team 1: Most choice in 4.2. Use Furina as a Support.
| Neuviilet | Furina | Kazuha | Charlotte |
| --- | --- | --- | --- |
| | | | |
| Xiangling | Bennett | Fischl | Charlotte |
| --- | --- | --- | --- |
| | | | |
Team 2: Easy to Build (advanced)
| Xiangling | Bennett | Sucrose | Charlotte |
| --- | --- | --- | --- |
| | | | |